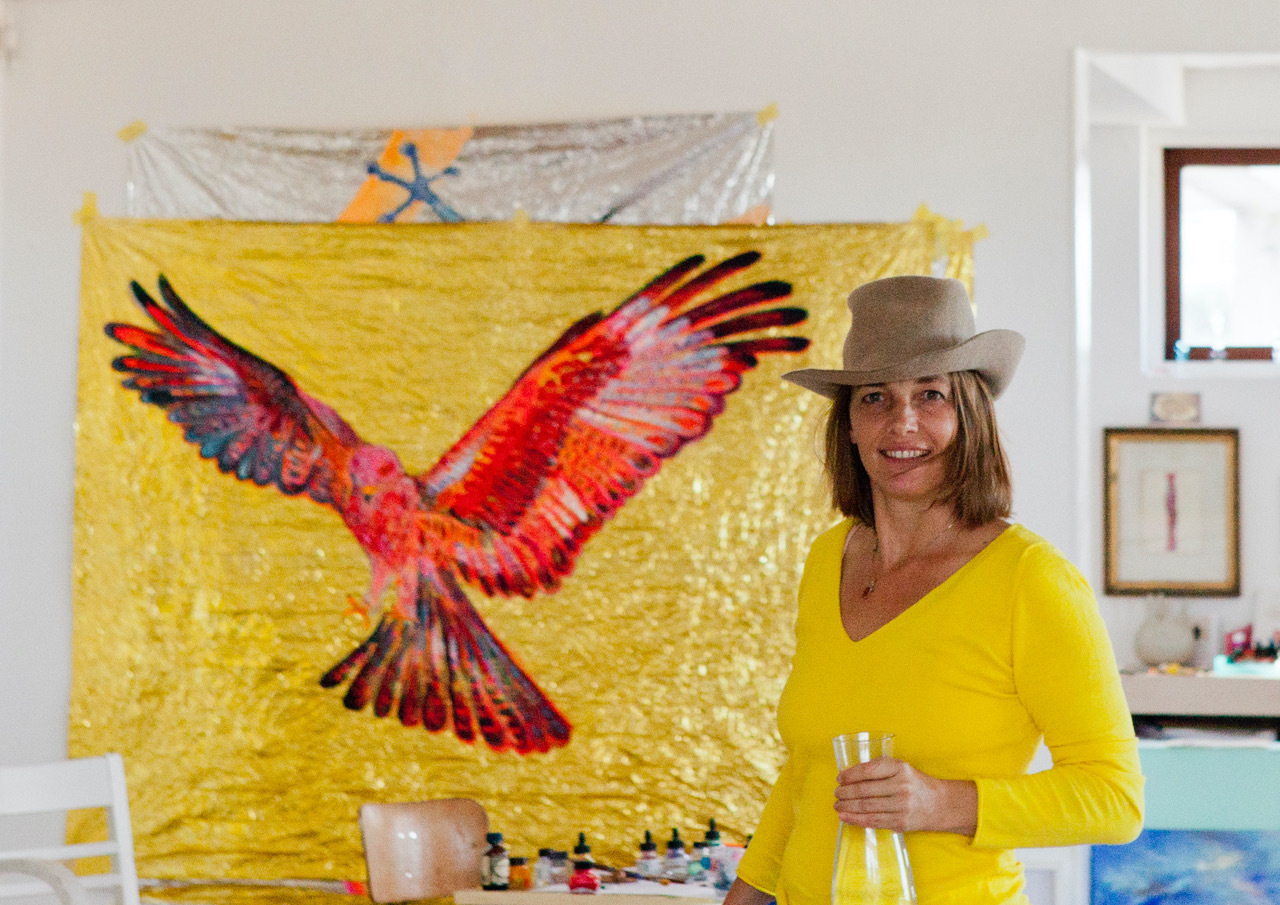 The horizon as a being of connection between heaven and earth is of central importance for the ultra contemporary artist Barbara Husar. She was, amongst other things, a goatherdess in the desert of Sinai and has been mentored by the guardians of the millennia-old nomadic culture. Infinity and internal connections are driving her artistic research into characterizing the core issues of creation. From the umbilical cords of her flock of goats she has connected a hammock. The path from the umbilical cord to the udder is close. The artist created a hot air balloon in the shape of an udder as a heavenly sign for the change in value, stimulating the discourse about the relation between culture and nature. She crossed the alps in 2020 with her social sculpture FLYING UDDER.
Barbara Husars body of work is difficult to isolate. 4.535 billion years of Earth's history; meteorites, trilobites, dragonflies, dinosaurs, mammals... extraterrestrial plant experiments, micro and macro rotations – in social sculpture, performance, animated film, oil paintings and poetry. Her research is intermedial between prehistory and the reshaping of life. Barbara Husar's international activity in the exchange of information between cultures, areas of knowledge and artistic media she pictures with: "I am part, intermediate part and particle accelerator."
Barbara Husar is a visual artist, performer, director and author. She studied at the University of Applied Arts in Vienna, at the Gerrit Rietveld Academy in Amsterdam, received the Austrian State Scholarship and is Hubert Berchtold Award winner.
In Berlin, Beijing, Shanghai and Bilbao she was Artist in Residence. Solo exhibitions at the Natural History Museum in Vienna, Schloss Amberg Feldkirch (A), Altenrhein Airport (CH), English Building Art Space (FL), Kunstverein Ulm (D), stage back Shanghai (CHN), GoDownArtCenter Nairobi (KE), Sorbonne Artgallery Paris | F
Der Horizont als Wesen der Verbindung zwischen Himmel und Erde ist für Barbara Husar von zentraler Bedeutung. Sie war u.a. Ziegenhirtin in der Sinai-Wüste und durfte von den prä-islamischen HüterInnen der jahrtausendealten Nomadenkultur lernen. Die Unendlichkeit und das Verbindende sind die Triebfedern ihrer künstlerischen Forschung zur Darstellungsweise der Kernfragen über den Kosmos. Aus den Nabelschnüren ihrer Ziegenherde hat sie eine Hängematte verbunden. Der Weg von der Nabelschnur zum Euter ist naheliegend. In einem Heißluftballon in Form eines Kuheuters erhebt sich die Künstlerin für den Wertewandel im 21. Jahrhundert. Das Himmelszeichen ist ein Diskurswerkzeug über die Beziehung von Kultur und Natur.

Barbara Husars Werkkörper ist schwer einzugrenzen. 4535 Millionen Jahre Erdgeschichte; Meteoriten, Trilobiten, Libellen, Dinosaurier, Mammalia ... extraterrestrische Pflanzenexperimente, Drehbewegungen im Mikro- und Makrobereich in in Trickfilm, Installation, Sozialer Skulptur, Performance, Ölgemälde und Poesie. Sie forscht intermedial zwischen Ur- und Neuformen des Lebens. Barbara Husars internationale Aktivität im Informationsaustausch zwischen Kulturen, Wissensgebieten und künstlerischen Medien beschreibt sie mit: »Ich bin Teil, Zwischenteil und Teilchenbeschleuniger.«
Barbara Husar ist bildende Künstlerin, Performerin, Regisseurin und Autorin. Sie studierte an der Universität für angewandte Kunst in Wien, an der Gerrit-Rietveld-Akademie in Amsterdam, erhielt das Österreichische Staatsstipendium und ist Trägerin des Hubert Berchtold-Preises.
In Berlin, Peking, Shanghai und Bilbao war sie u.a. Artist in Residence. Soloausstellungen im Naturhistorischen Museum in Wien, Schloss Amberg Feldkirch | A, Flughafen Altenrhein | CH, Kunstraum Engländerbau Vaduz | FL, Kunstverein Ulm | D, stageBACK Shanghai | CHN, GoDownArtCenter Nairobi | KE, Sorbonne Artgallery Paris | F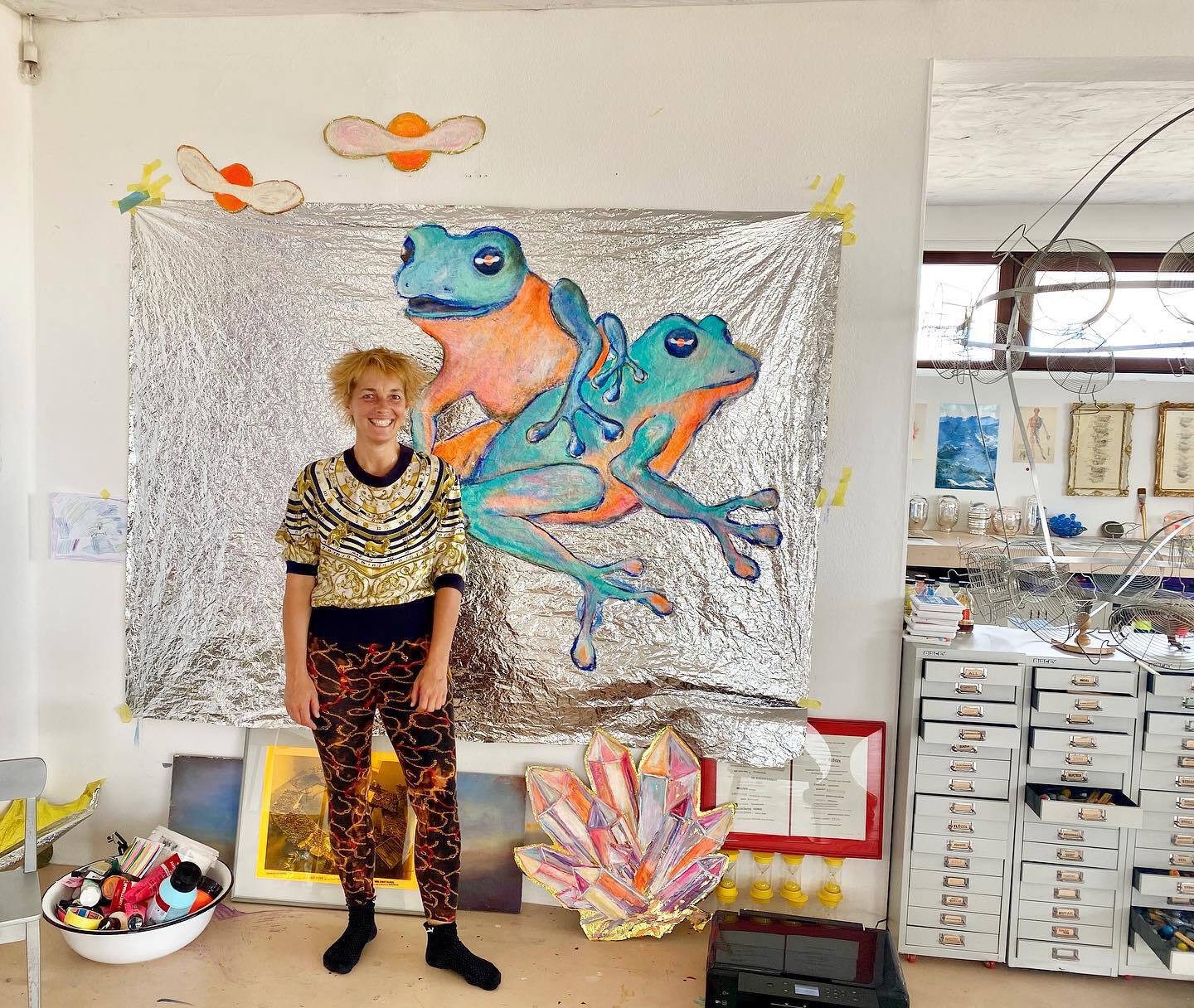 Photo: Lilian Peschek 2020
Awards, Grants, Residencies
2019, Award for Mobile Excellence by Google • 2015, artist in residence, Klangfestival Gallneukirchen | A • 2013, artist in residence, Berlin | DE • 2011, Redgate residency, Beijing | CHN • 2010, artist in residence, stageBACK, Shanghai | CHN • 2009, Hubert Berchtold Preis, Vorarlberg | A • 2009, Fundacion Bilbao Arte, artist in residence, (exchange with Kunsthaus Bregenz), Bilbao | ES • 2008, CPH Air, Kopenhagen, artist in residence | DK • 2008, Silvrettatelier, Bielerhöhe, artist in residence | A • 2007, Staatsstipendium für bildende Kunst, Österreich