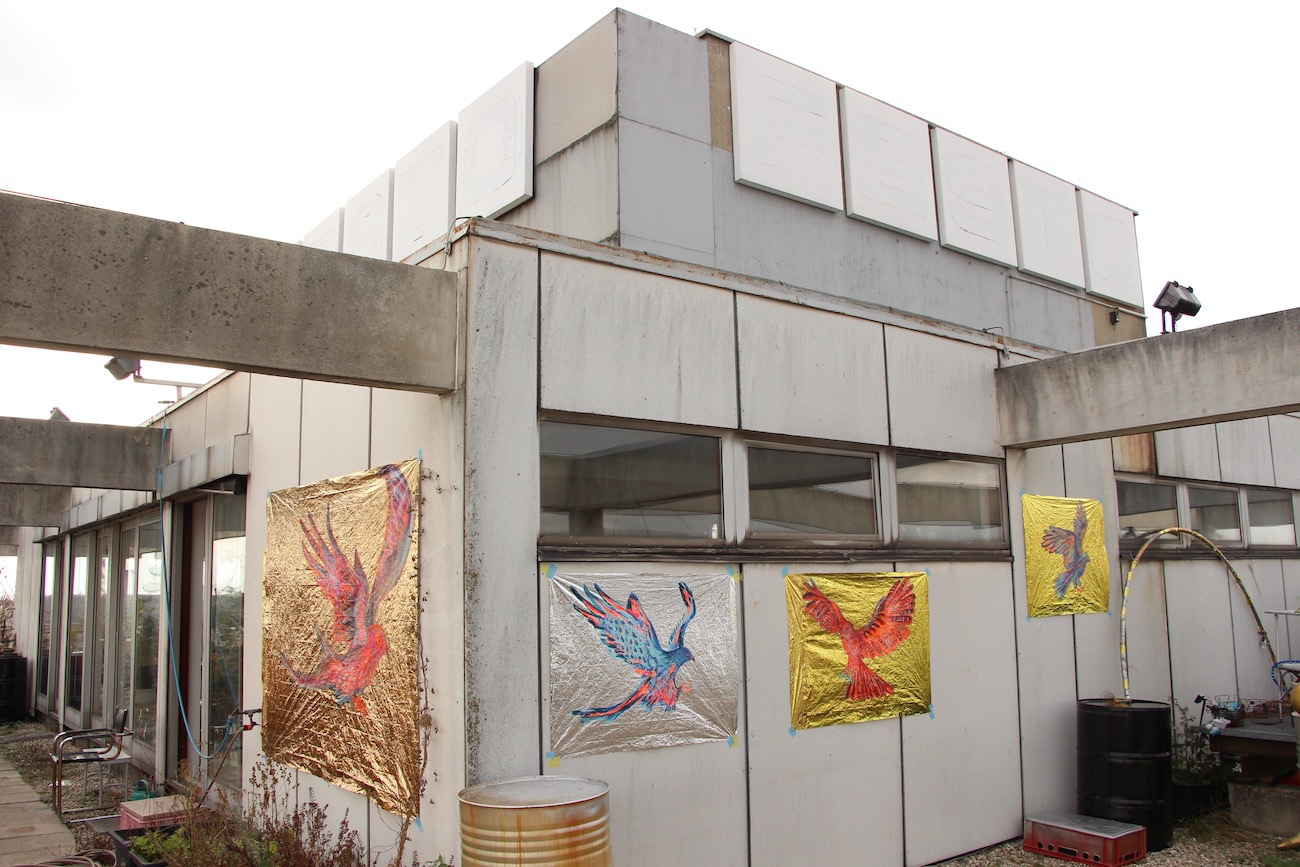 showing my birds to the crows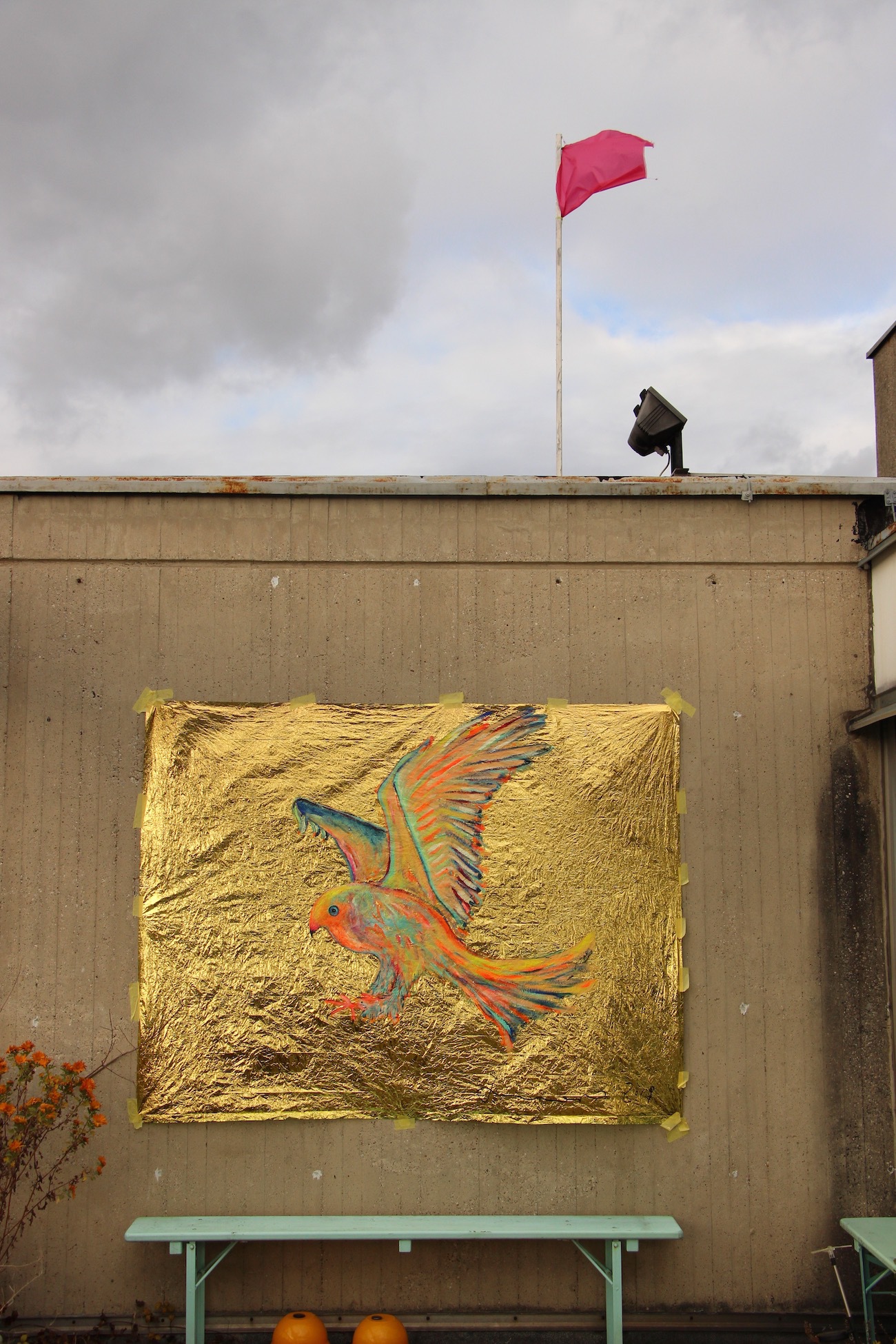 above my crown they make me feel winged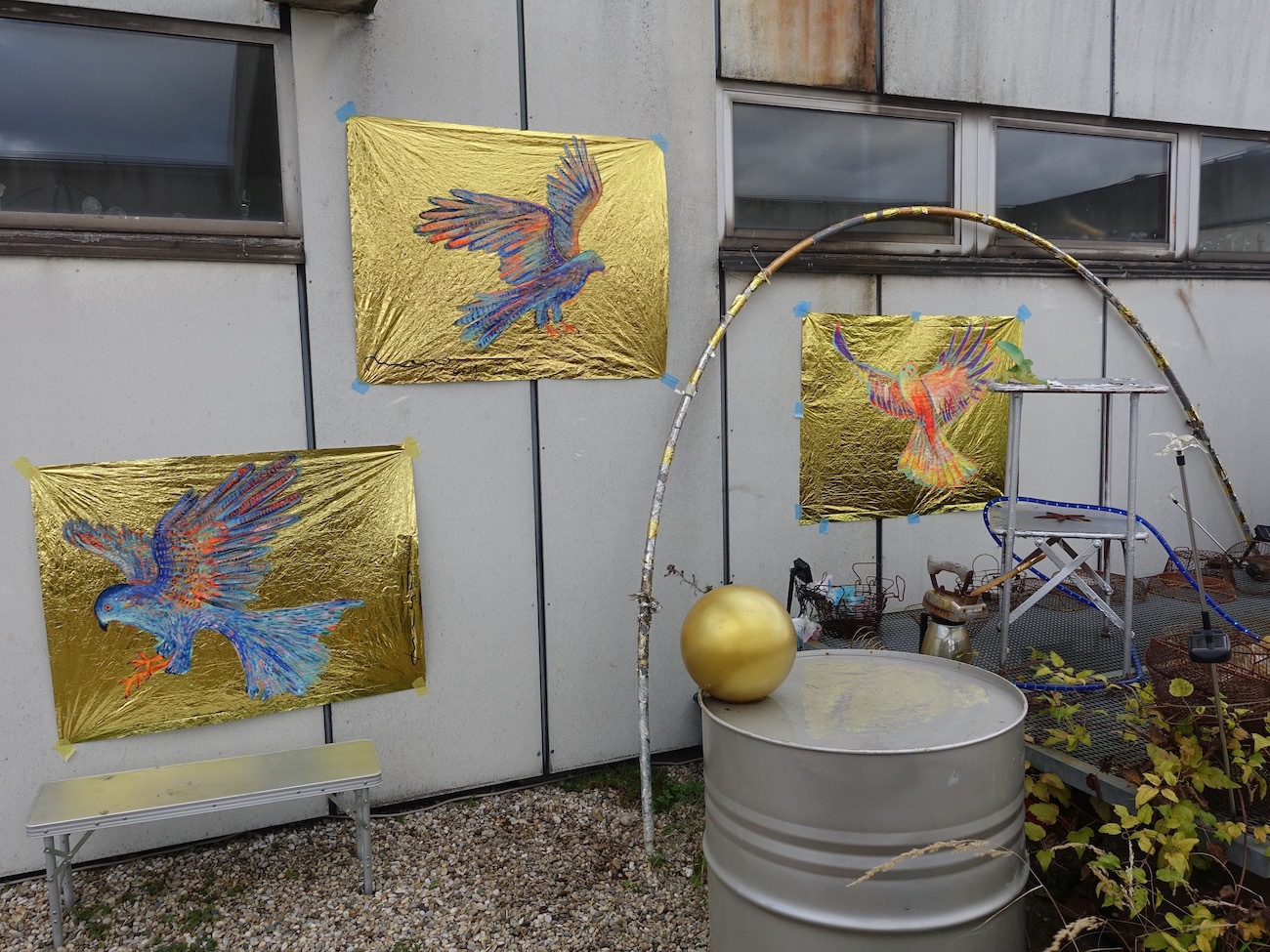 Since I am on the ship without sea the crows are spreading their presence and their presents with me. They bring all kinds of rusty pieces. In the beginning I was wondering about all those pieces and could not grab the story behind. But then I started witnessing them. Once they dropped a piece as long as a wine bottle. That was extraordinary and really heavy. What they bring normally are nails and stuff. Sometimes I watch out for those pieces in the stones. It feels a bit like searching for mushrooms. As soon as you have one you are zoomed into their matrix and it becomes very natural to find them. Some of my friends love to do that when they are visiting my studio. The most special thing that I found so far was a little statue of a Ganesha godhead. I presented my birds to the crows on that places where i found the most metal pieces.
Seit ich auf dem Schiff ohne See bin breiten die Krähen hier ihre Präsenz und ihre Geschenke aus. Sie bringen mir die unterschiedlichsten Metallteile. Am Anfang habe ich mich gewundert und konnte es nicht glauben. Aber dann sah ich es mit eigenen Augen. Einmal brachten sie mir ein rostiges Stück in der Länge einer Weinflasche. Das war aussergewöhnlich und wirklich schwer. Normalerweise bringen sie rostige Nägel und so. Manchmal ertappe ich mich dabei die Teile zu suchen zwischen den Steinen, welche die Dachpappe schützen. Es ist ähnlich wie die Suche nach Pilzen. Sobald einer gefunden ist, finden sich die anderen nahezu von selbst. Einige meiner Freunde lieben es, diese Rabengeschenke aufzuspüren, wenn sie mein Studio besuchen. Das Aussergewöhnlichste, was ich bisher auf dem Dach gefunden habe, war eine kleine Statue der indischen Gottheit Ganesha. Ich habe den Krähen meine Vögel genau an den Stellen gezeigt, wo ich die meisten Metallteile gefunden habe.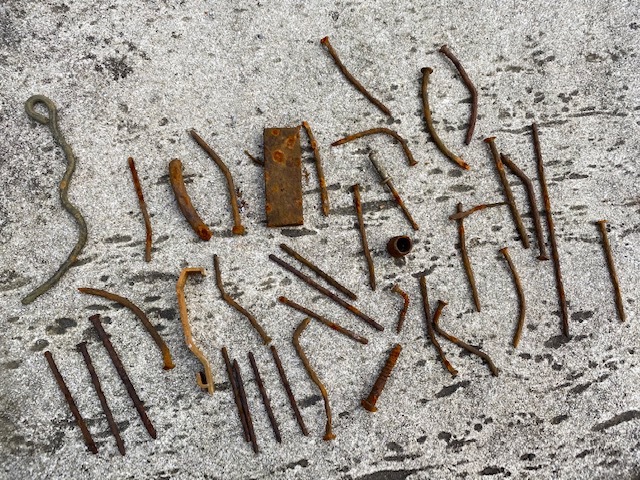 Finds on the Ship without Sea in 2019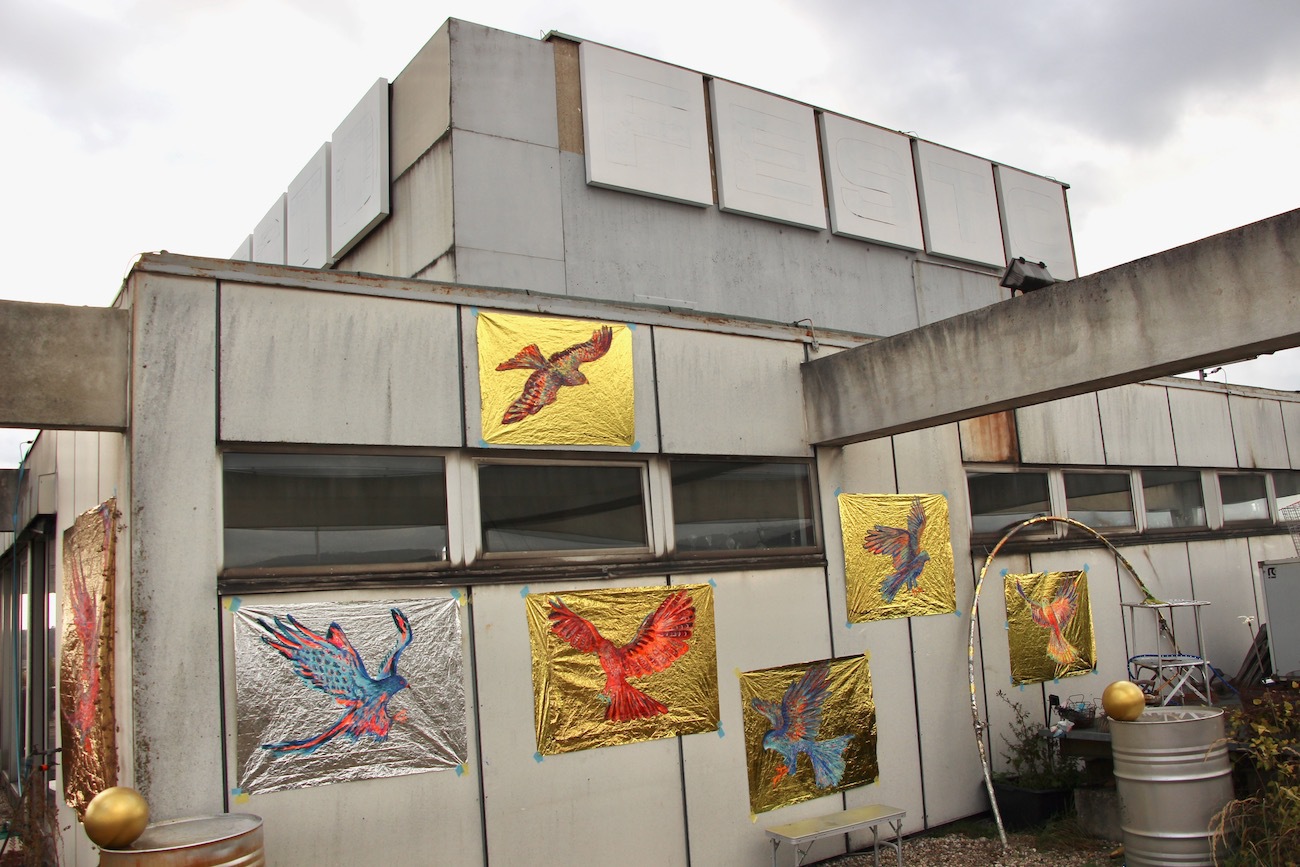 Sometimes it feels like a street of ants is flying upside down in the sky.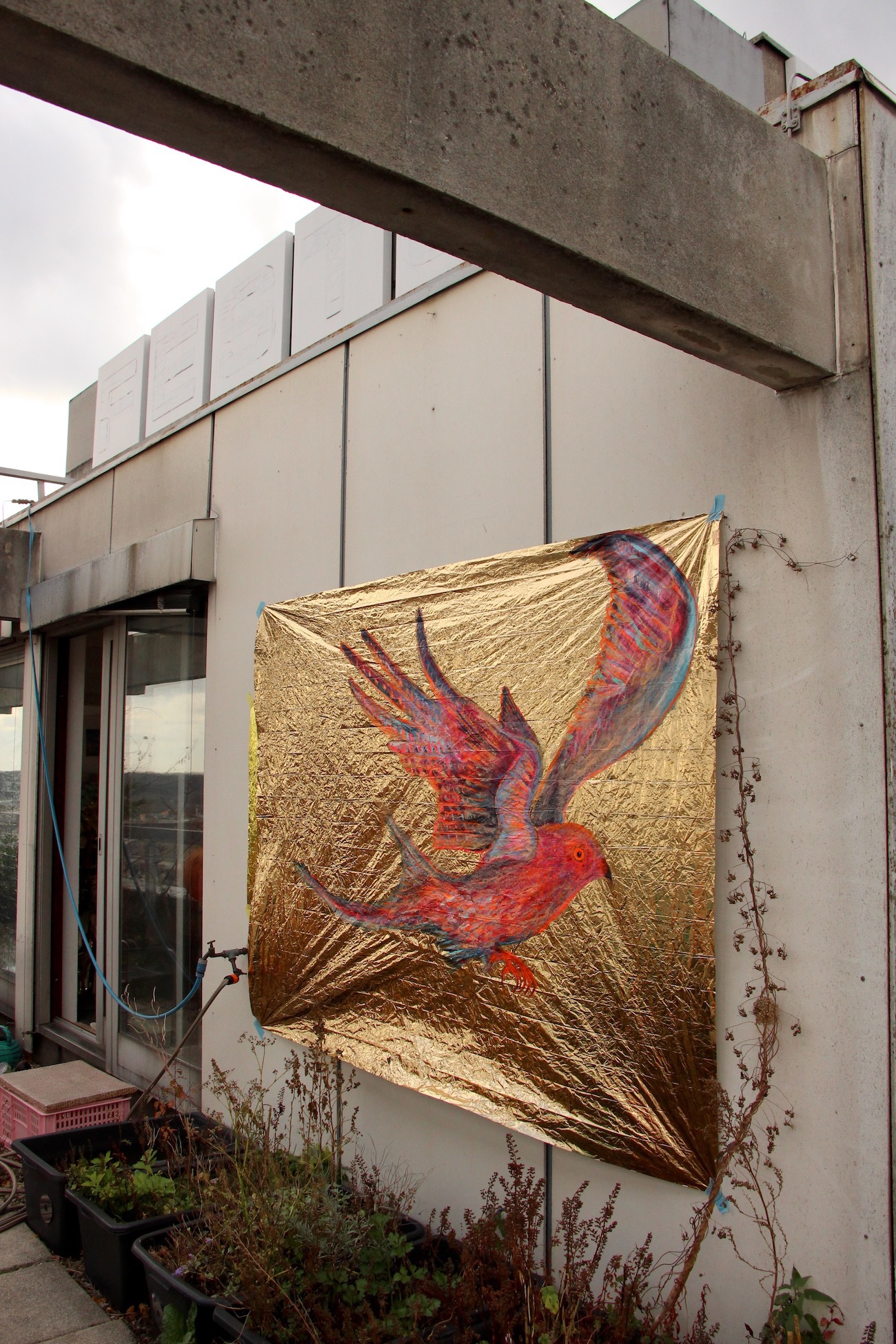 Sometimes it feels like a street of ants is flying upside down in the sky. When these troops of crows are crossing from here to there they add this fantasy flavour over my studio on the top of an old office tower. Especially in the cold season, when the city vanishes behind that white humid veil and hundreds of crows above my crown are passing on a free assembly line, they make me feel winged.
Manchmal fühlt es sich an als würde eine Ameisenstraße kopfüber am Himmel fliegen. Wenn diese Vögel in Scharen von hier nach dort den Himmel queren, verleihen sie meinem Studio Drehortgefühle von phantastischen Filmen. Speziell in der kalten Jahreszeit wenn die Stadt hinter diesem weißen, feuchten Schleier verschwindet und hunderte von Krähen über meinen Scheitel wie auf einem freien Fließband ziehen, geben sie mir das Gefühl, beflügelt zu sein.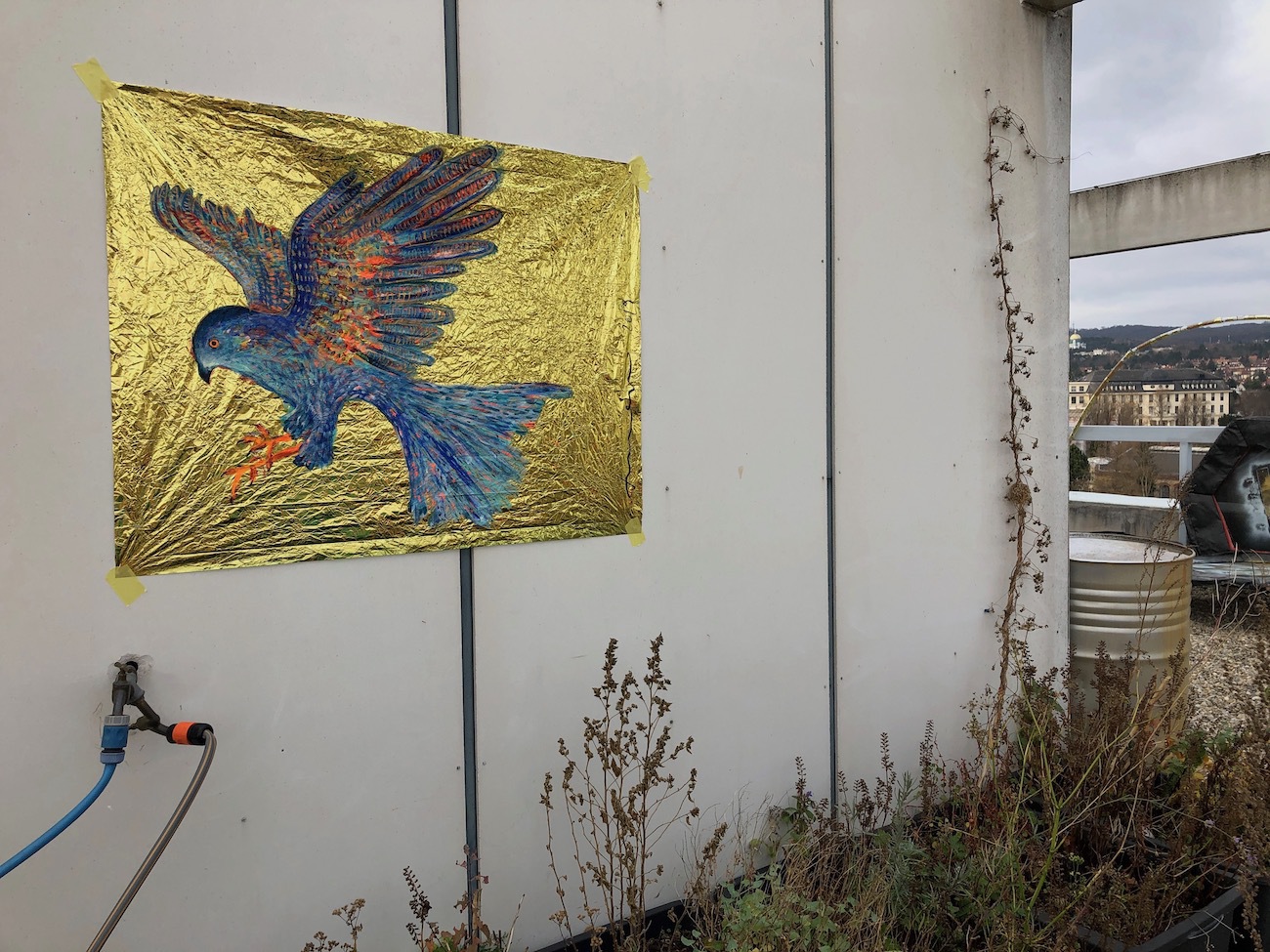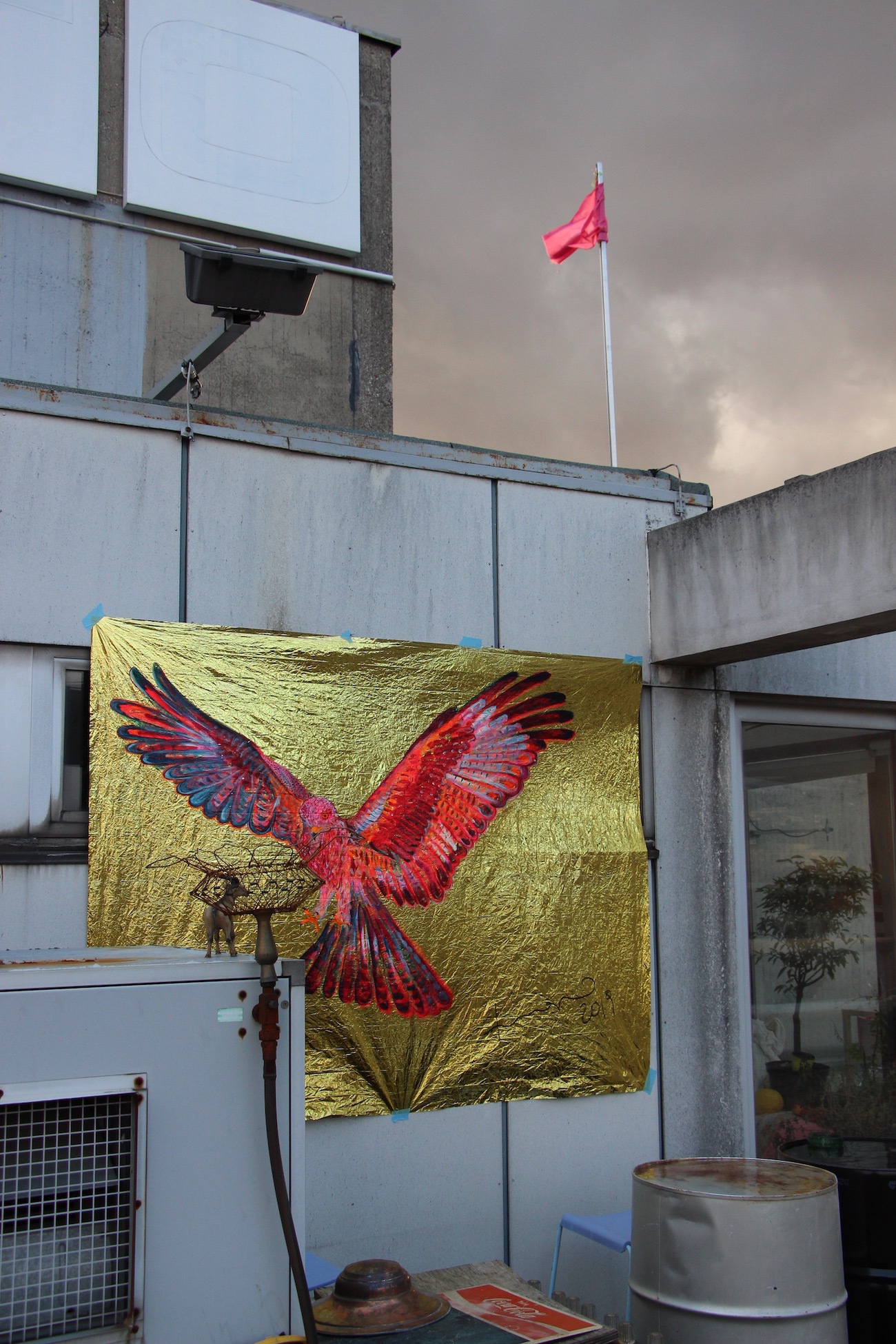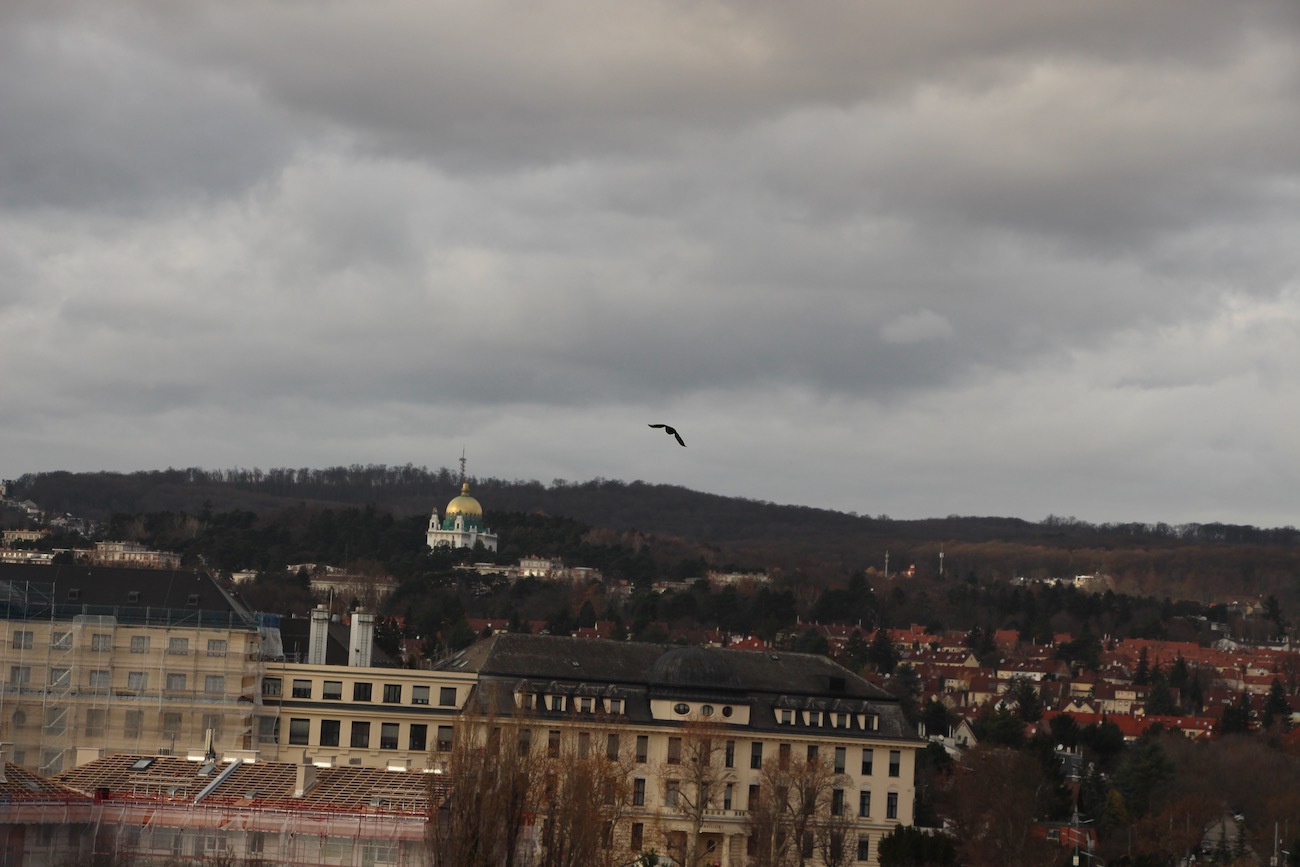 I started painting birds because the mum of my galerist asked me to paint her a red kite. No matter if the work is commissioned or not I screw myself into the new subject and paint it continuously over a longer period of time. I call it `screwing in´ because it feels like immersing oneself into the core of the observed. I practise this approach since I am 3 years old. Zooming myself to the next level of perception leads often into flocks of paper containing the observed, camel herders would call it packs. This year I dived into the flow of birds. After selling Rosa a pink kite out of the flock of birds I still could not stop painting them. When Rosa recognized that I am still absorbed by them, she told me incidental, that the kites were contacting her to initiate that connection.
Ich begann Vögel zu malen, weil die Mutter meines Galeristen mich bat, ihr einen Milan zu malen. Egal ob Auftragswerk oder nicht, ich schraube mich in das neue Thema hinein und male es kontinuierlich über einen längeren Zeitraum. Ich nenne diesen Zugang "hineinschrauben", da es sich anfühlt wie das Eintauchen in das Beobachtete. Seit ich 3 Jahre alt bin, mache ich das so. Das `Zoomen´ in die nächste Wahrnehmungsebene führt oft zu Herden von Papieren mit dem Beobachteten, Kamelhirten würden es auch Gruppen nennen. Dieses Jahr tauchte ich in den Fluss der Vögel ein. Nachdem ich Rosa einen pinken Milan aus diesem Vogelschwarm verkaufte, konnte ich dennoch nicht aufhören diese Tiere zu malen. Als Rosa erkannte, daß ich nach wie vor im Inneren der Vögel bin, sagte sie mir beiläufig, daß die Milane sie kontaktiert haben, um diese Verbindung herzustellen.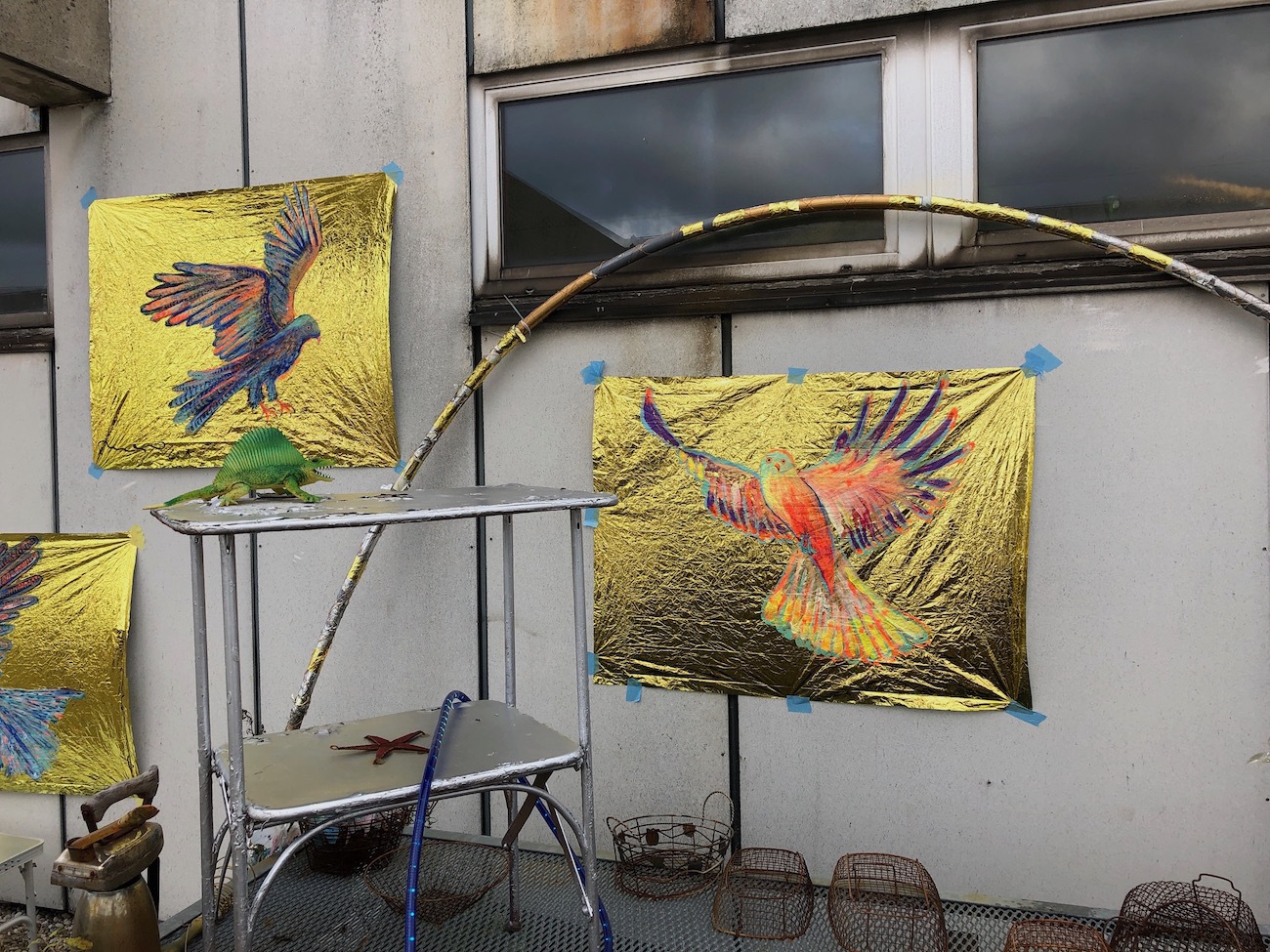 Photography by Flo Bogenmayr
exhibition for birds
Part of