THE EGG OF CORONA | 10.49 min | 2022  supported by the Ship without Sea Academy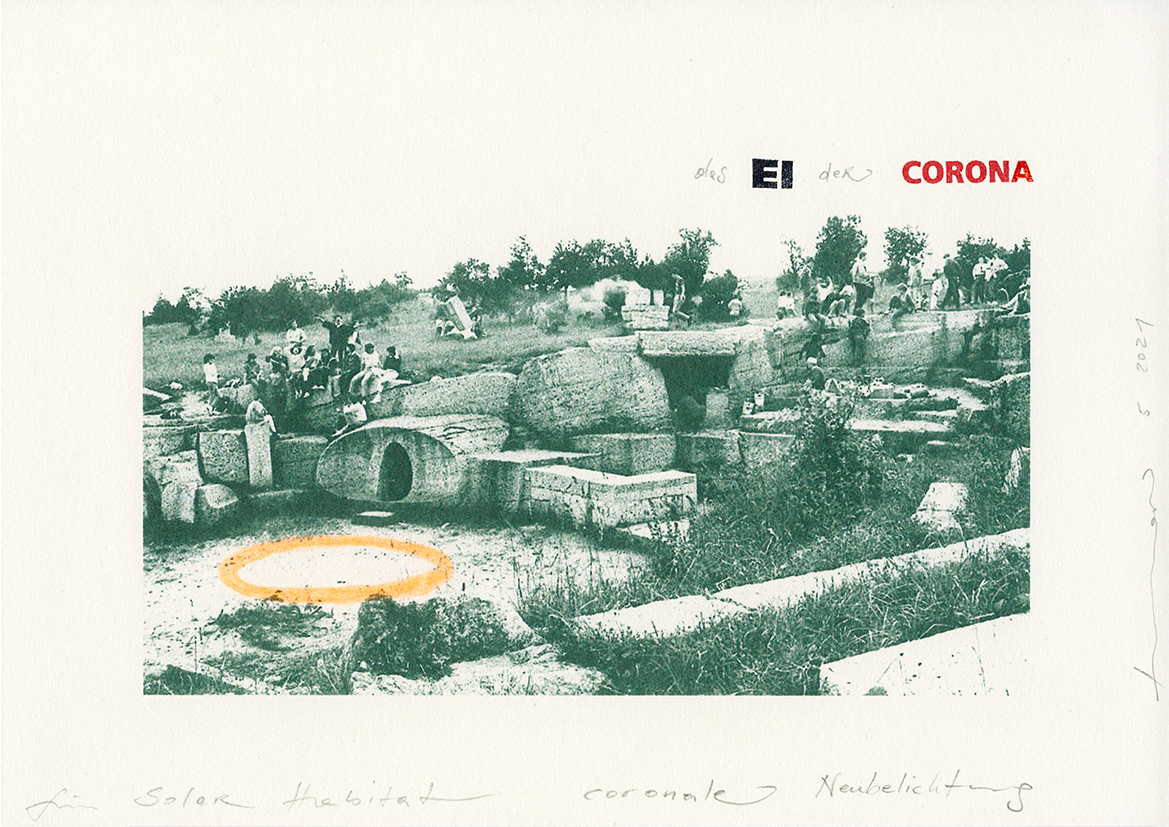 Inside this cavity is the imprint of an ammonite in sand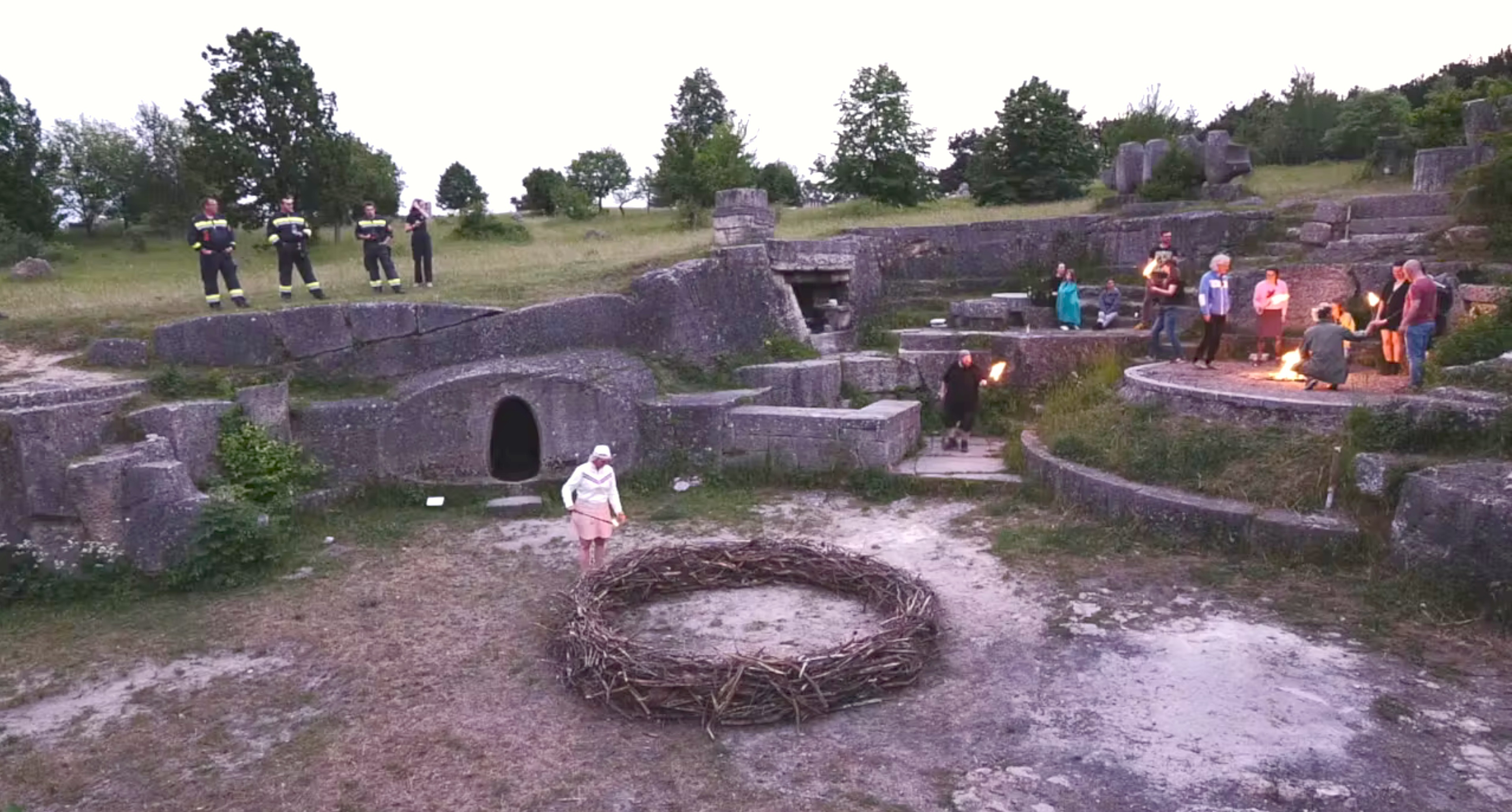 DAS EI DER CORONA | 03.08 min | 2022 supported by the Ship without Sea Academy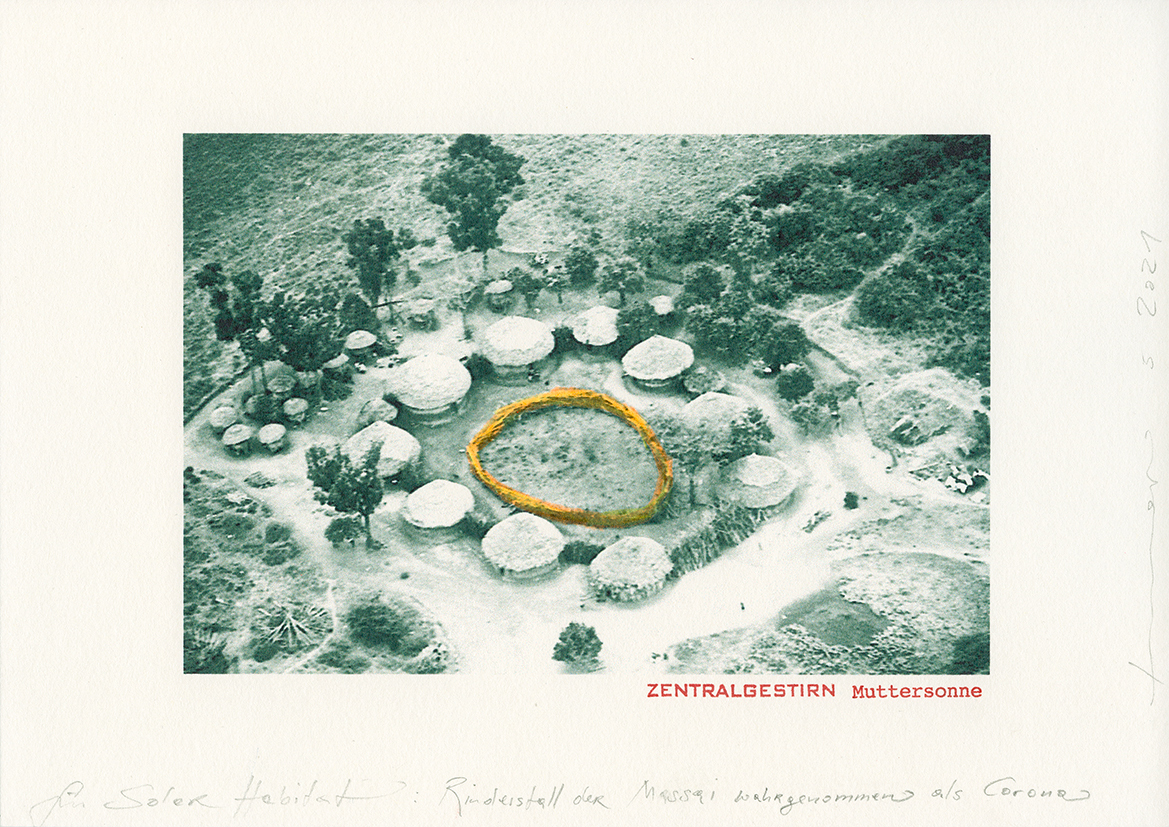 My first impulse to create a work for Solar Habitat was an emotional one. I felt the urge to make the corona visible in its original expression. It is the atmosphere of our sun.
THE EGG OF CORONA is a social sculpture. Inspired by the cattle stables at the center of Maasai villages, we built a circle of branches at the central point of the Symposion Lindabrunn. The circle was set on fire in the evening to cast a light on the original essence of the corona.
Next to the fireplace, there is an accessible egg-shaped cavity carved out of the stone. Inside this cavity we placed an imprint of an ammonite in sand. While hatching from this egg one encounterd a sequence of archaic fields of perception –  circle, stable/nest, crown, egg, ammonite. They evoke in our cells inner images of original forms of existence, pre-dating any narratives. These inner images, like the corona of the sun, create a stabilizing atmosphere around our own center and can be perceived as a collective auto-corrective.
Mein erster Impuls, einen Beitrag für Solar Habitat zu entwickeln, war emotional. Ich verspürte das Bedürfnis, die Corona in ihrem ursprünglichen Ausdruck sichtbar zu machen. Sie ist die Atmosphäre unserer Sonne.
Das EI DER CORONA ist eine soziale Skulptur. Angelehnt an die zentralen Rinderställe der Massai wurde am zentralsten Punkt des Symposions Lindabrunn gemeinsam ein Kreis aus Geästen aufgebaut. Diesen entzündeten wir gemeinsam am Abend um die ursprüngliche Bedeutungsebene der Corona zu belichten. 
Neben der Feuerstelle gibt es ein begehbares Ei in Stein gehöhlt. Darin installierten wir den Abdruck eines Ammoniten in Sand. Die Abfolge der archaischen Wahrnehmungsfelder Kreis, Stall/Nest, Krone, Ei, Ammonit evozieren in unseren Zellen beim Entschlüpfen aus dem Ei innere Bilder von ursprünglichen Daseinsformen weit vor jeglichen Narrativbildungen. Diese inneren Bilder bilden wie die Corona der Sonne eine stabilisierende Atmosphäre rund um die eigene Mitte und können als kollektive Autokorrektur wahrgenommen werden.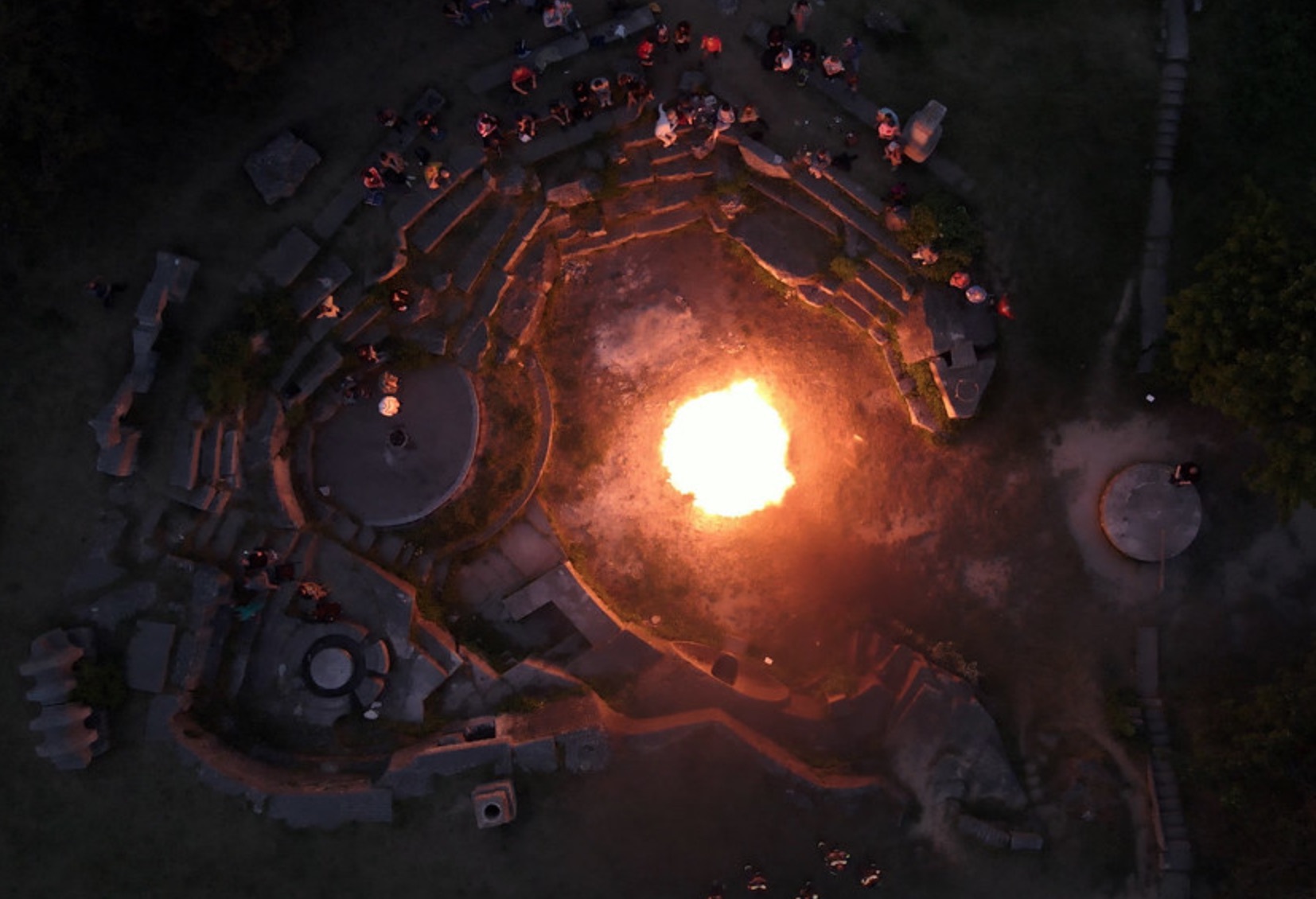 THE CENTER OF SOLAR USE INTERPRETATION I exhibition and symposion SOLAR HABITAT, curated by Kathrin Stumreich
all photos and scans by Elmar Bertsch
AMMONITE, BEESWAX, EGGCAVE, LINEN, LIGHTER, WOOD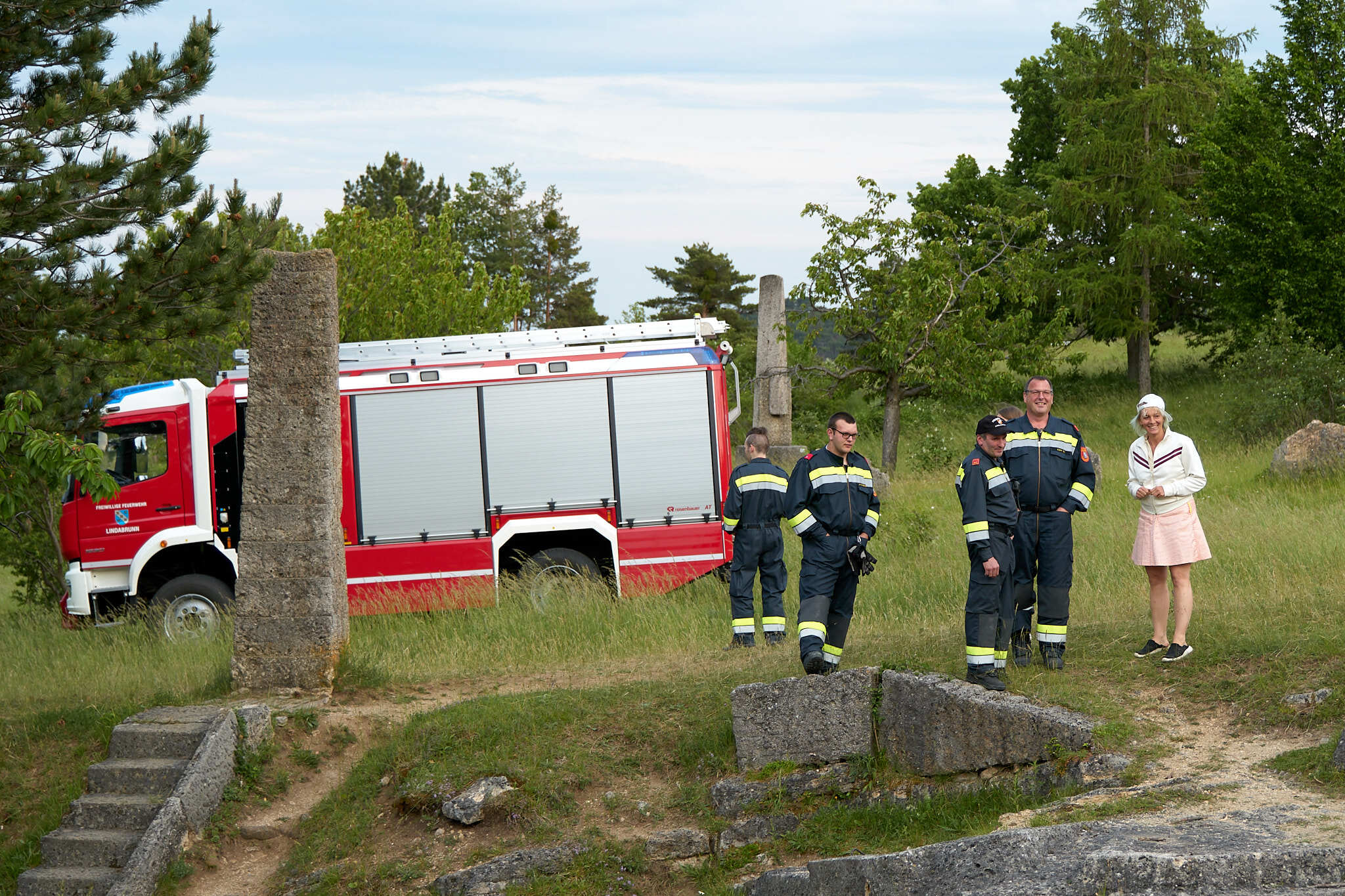 THE EGG OF CORONA
Filed in