A new transport situation is created by gym balls that puts passengers in new contexts. Elastic space of interaction between Bludenz and Bregenz created by new immigrants in Austria and students of Borg Götzis with their Welcome-messages during the long night of museums. Train of Art - Train of Time.

Kunstzug - Zug der Zeit. Ein elastischer Bewegungsraum zwischen Bludenz und Bregenz. Mit Gymnastikbällen wurde eine neue Beförderungssituation
geschaffen, welche die Passagiere in neue Zusammenhänge rücken liess. Während der langen Nacht der Museen kommunizieren Neuankommende in Österreich und SchülerInnen des Borg Götzis ihre Willkommens-Botschaften auf den Bällen.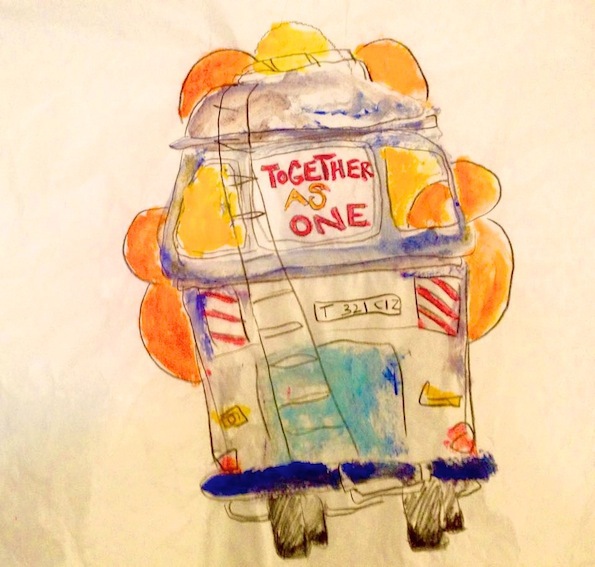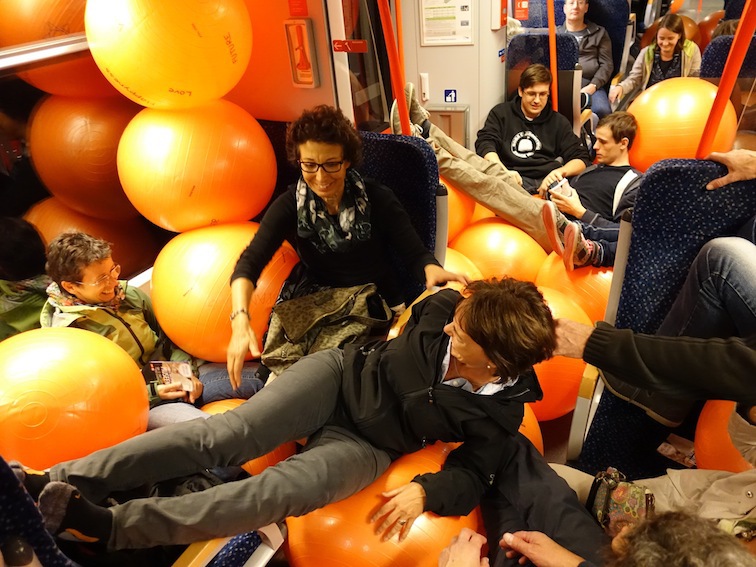 A Dala Dala is the usual mobility device in East Africa. It is filled with passengers, goods and animals. Imagine a minibus. No, not this one with three rows of three seats - but yes - just as big - but - imagine 5 rows of five seats. Then you sit in a Dala Dala. Imagine that the bus is full. You got me! A Dala Dala is never full. We take a seat, exactly in the size of the free space. If we become more, we have less space. If we become less, we use the space again. Always taking into consideration the needs of the people we are on the road with. We all want the same thing. Arriving as comfortable and peaceful as circumstances allow. The emphasis is on WE. The WE changes constantly in its composition, never in its being.
Eugen Fulterer
Ein Dala Dala ist das übliche Fortbewegungsmittel in Ostafrika. Gefüllt wird es mit Passagieren, Waren und Tieren. Stellen sie sich einen Kleinbus vor. Nein nicht diesen mit drei Sitzreihen zu je drei Sitzen - doch ja - genauso groß - aber - stellen sie sich 5 Sitzreihen zu fünf Plätzen vor. Dann sitzen sie in einem Dala Dala. Stellen sie sich vor der Bus ist voll. Reingefallen ! Das Dala Dala ist niemals voll. Wir nehmen Platz und zwar genau so viel wie es gerade gibt. Werden wir mehr, haben wir weniger Platz. Werden wir weniger, so nehmen wir den frei gewordenen Raum gerne in Anspruch. Immer unter Rücksichtnahme aller Bedürfnisse der Mitgeführten. Wir wollen ja alle das gleiche. Ankommen so gemütlich und friedlich wie es die Umstände zulassen. Die Betonung liegt auf WIR. Das WIR ändert sich ständig in der Zusammensetzung, nie in seinem Sein.
Eugen Fulterer